Lusty in Newport Beach after the Caribbean adventure and before rework.

The next and additional photos are Lusty on the hard being reworking to make her better than New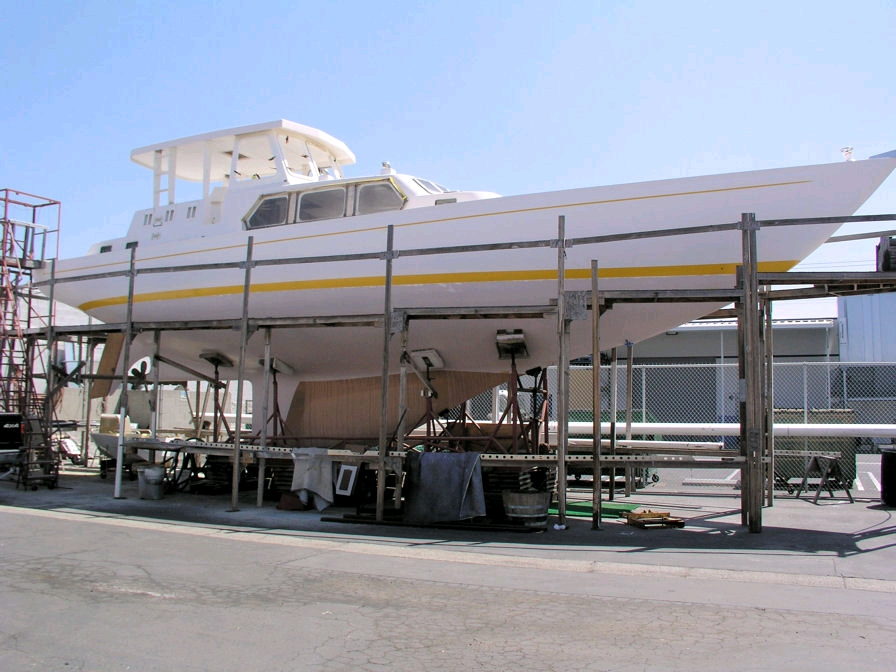 Many photos of the Yacht Lusty Lusty Re Build Photos
Lusty Surveys Lusty Surveys
Lusty short Video Lusty short Video
ABOUT THE RE BUILD
engine hours (total): 0

length overall (LOA): 60

make / manufacturer: Columbia built the hull Customized by Marine Engineering

model name 56 ft Motor Sailor

propulsion type: sail

year manufactured: 1980

Refitted to better than new, Ketch rigged 56 ft motor sailor custom built for deep water cruising. Epoxy saturated end grain Balsa core Hull and deck was laid up by Columbia and custom finished by Marine Engineering

Marine Engineering was a designer of innovative boats and systems. We installed and created many new innovations to make Lusty a very safe, easy to sail and comfortable blue water cruising Yacht

Lusty is located in Costa Mesa CA

Brief history

We bought the hull and deck from Columbia and built the boat as a family home for myself and two daughters.

Our priority's were safety and comfort

When the boat was completed and named Lusty. A Ketch rigged motor sailor

We sailed down to the Caribbean and did SCUBA dive instructions and dives for family charters for about four years

We sailed back to California and lived aboard and cruised the California coast for about ten years

We had zero problems with the boat in all our travels

The boat is designed as a motor sailor At hull speed under power the Detroit diesel engine consumes about 3/4 to one gallon per hour in a normal sea as a function of sea conditions . Down wind, the consumption was less

Hull speed is 8.5 knots. The fuel tanks hold about 400 gallons. 400 X 8.5 is about 3400 knots on engine alone. If we used the sails and the engine together, the range was unlimited

Lloyd's of London rated the boat for unlimited range

The ten KW New Northern Lights generator runs on diesel also and the motor only range is effected by the amount of generator run time

The boat was getting tired and starting to show usage problems. The boat was hauled and we spent about $240,000 making the boat new again.

100% rebuilt engine, New generator, new fuel, water and holding tanks, new transmission, new shaft, new prop. Everything was replaced with new equipment

Rebuilt anchor windlass. New 600 ft of 3/8 chain, new bow roller, new anchor mount and roller

New stainless ports. new lexan windows. new encapsulated keel , rebuilt rudder and post.

Rebuilt hydraulic steering system, Epoxy saturated Balsa core hull was tested with ultra sonic and found no problems.

Hull and deck stripped of all coatings and re coated with five coats of jell

All out side aluminum replaced with stainless New custom stainless toe rail

New chain plates

New hard top

New control pedestal

New freezer, new refrigeration, new washer , new dryer

New plumbing

New and rebuilt toilets

Isolation transformer to eliminate electrolysis and allow 120 or 240 volt shore power

All through hulls removed and replaced with one through hull for salt water intake

All used water plumbed to stern and exhausted above water

New engine and generator exhaust systems

Engine salt water pump for cooling changed from a rubber impeller type to a centrifugal pump

Engine mounted on standard engine silencing mounts Drive shaft with u joints installed between engine and the propeller shaft to make the engine quieter

Deck reworked to move the life line stanchions off the deck to the new stainless toe rail No more toe stumping at night

The deck house was reinforced with additional fiber glass to end the big windows leakage problem in heavy rain or weather
Work required to go sailing
That is some of the rework The finish and trim on the interior is not finished. The electrical needs to be reconnected and the engine controls installed
New electronics need to be selected and installed
The stainless rigging needs to be replaced and New sails would be a wise investment
The new transmission is a work boat model that has an shaft seed control as well as a the forward and reverse. The shaft speed control allows the engine to run at a constant set RPM and the shaft speed is set by the pilot with a lever control like the engine RPM control. This feature was installed to allow for thrusters to be installed
A bit more history
Lusty was constructed by the Marine Engineering Company. I was doing systems design for boat builder and boat owner that wanted to improve their boats. I hired two full time very experienced boat builders. One was and now again is a manager and worker at large boat manufacturing company. The second worker was and is still the best fiber glass fabricator in this area. He is now building large custom yachts for a boat manufacturing company.
I also used part time help as needed. The full construction took a little over three years of full time work to complete the yacht.
I have been a devoted cruising sailor for about 60 years and building the Good Ship Lusty encompassed all the systems that made sailing more fun and safer
The plan was a cruise without problems to the South Pacific. Australia and New Zealand, but the Caribbean was so nice, we did not make further south
Lusty goes to weather very well and we rode out four hurricanes in the Caribbean without a problem.
The custom anchoring system works very "very" good. The anchor system allow anyone to set or retrieve the heavy anchor and chain.
You will not find a boat that is even close to Lusty as to sailing and cruising in comfort
The boat is designed to have all the heavy tankage and equipment below the water line. Along with the 22,000 pounds of lead in the keel, makes the boat very stable and comfortable.
Three staterooms,with about 6 ft of head room. two heads and showers, propane or electric galley Tons of storage Saloon and galley combined. Each stateroom has a sink with hot and cold water.
Work bench and storage for misc Parts and etc
Conventional sails designed for normal people to handle
I would love to finish the boat and go cruising again but I am now an old salt and no longer have my daughters as crew. I so I decided to swallow the anchor
The boat was used for cruising in the Caribbean and pacific coastal waters. The boat was hauled and a very intensive retrofit was done to restore the boat to better than new redesigned propeller location to have prop wash over the rudder at slow speeds.
All new engine and propulsion, new Northern light gen set, New ports lights,May tag washer and dryer, new tanks, new stainless deck hardware, new anchor system and 600 ft of 3/8 chain, new everything
The current survey suggested sale price is about $240,000. Replacement cost is 930,000 The yacht is priced for rapid sale.
We will consider real offers
Please email or call for additional information
paul@yachtlusty.com